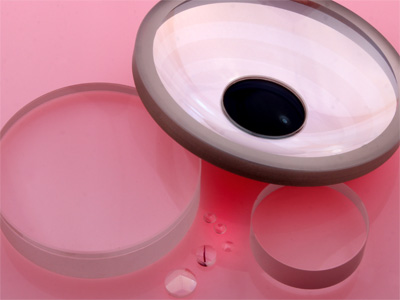 Using our in-house capabilities to grind and polish spherical optics, our experienced craftsmen will deliver your custom domes and lenses when you need them.
OPCO has the capability to manufacture your production quantities. Our vertically integrated manufacturing allows us total process control over your product.
---
Typical Domes & Lenses Manufactured by OPCO Include:
Spherical Lenses 2mm — 300mm
Hemi-Spherical Lenses 2mm — 300mm
Hyper-Spherical Lenses 2mm — 100mm
Aspherical Lenses 2mm — 100mm
Plano Concave/Convex Lenses 2mm — 300mm
Double Concave/Convex Lenses 2mm — 300mm
Drum Lenses 2mm — 35mm diameter
Ball Lenses 2mm — 25mm diameter
Cylindrical Lenses 2mm — 500mm radius
Doublet & Triplet Lenses 2mm — 300mm
Domes 2mm — 75mm diameter
---
Materials
Fused Silica
Low and High Index Glass
Silicon (Si)
Germanium (Ge)
Sapphire
Calcium Fluoride (CaF2)
Magnesium Fluoride (MgF2)
Zinc Selenide (ZnSe)
To reduce lead times we maintain an inventory of the most popular raw materials.
---
Specifications
Surface Quality to 10-5
Surface Accuracy to λ/10
Angles (Wedge or Prism) down to seconds
Centration within seconds
Tolerances 10 microns
---
Precision Lenses manufactured exactly to your specification
Skilled opticians employ CNC manufacturing to ensure consistency in specs.
Unique in-house capability to manufacture Test Plates assures lens radius, surface accuracy, and repeatability — a cost and time advantage during the design phase.
Centration within seconds, validated by our computer controlled centering scope.
Angles are maintained using high resolution autocollimators.
Contact Ryan at OPCO to discuss your requirements.